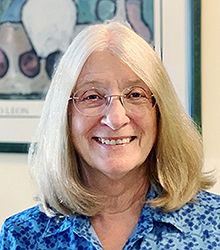 Sally A. Moody, PhD
Emeritus Professor
Anatomy & Cell Biology
Dr. Moody received her bachelor's degree from Goucher College. She conducted her MS research in neuroscience under the tutelage of Richard Meszler, PhD, at the University of Maryland School of Dentistry, which launched her career path exploring the nervous system. She earned her PhD in neuroscience from the University of Florida and served a postdoctoral fellowship at the University of Utah until 1983. She then went to the University of Virginia and served on the faculty of the Anatomy & Cell Biology Department, the Department of Neuroscience, and the Developmental Biology program. In 1994, Dr. Moody joined GW as a full professor in the Department of Anatomy & Cell Biology.
For more than 30 years, Dr. Moody's lab has been working on issues specific to the development of the nervous system including the cranial sensory structures. Her research aims to discover mechanisms regulating neural cell fate and causes of birth defects.
Dr. Moody has published more than 100 scientific articles, served on several scientific advisory boards, and currently holds positions as the editor-in-chief of genesis, The Journal of Genetics and Development, editor of Principles of Developmental Genetics, and co-editor of the Evolutionary Cell Biology book series. Dr. Moody has received grants for her research from the National Institute of Health, the National Science Foundation, the US-Israel Binational Science Foundation and the March of Dimes.
Explore Dr. Moody's Curriculum Vitae.